MODULAR KINDERGARTEN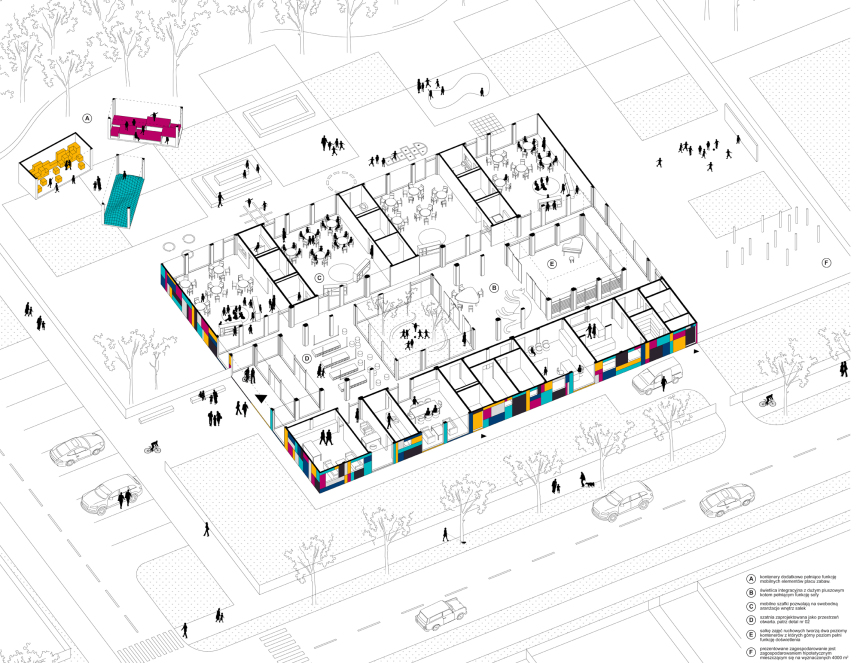 Kindergarten

from the containers

in

our proposal 

represents the most

optimal solution for

objects with this kind of funcion

.

Compact form

is based

on a simple

functional layout

,

consisting of three

main

zones

.

This division

allows for

collision-free

expansion

along the axis of

the object.

The whole

is designed

so that

adding more

rooms

is possible in a easy way.
The main zone is for class rooms for kids. Each room is made of 6 containers, has an area of ​​approx. 68m2. Individual rooms have a separate bathroom with a window into the room, ensuring safe use and control of educators. Rooms have glass over the entire width on both outside and inside wall. Kids can go out directly from the room to the garden.
28 meters of the building widh, was the reason to vary the hight of the building. Central zone is a special place, with double-high space there is a place for special functions. Several additional options for transforming the central zone has been introduced as well – depending to the needs, financial capabilities, the size of the plot or the environment.
The secondary part of the proposed kindegarten is for support – small office, room for teachers, hygienist room, kitchen, sanitary facilities and a storage.
A simple layout form is contrasted with colored panels on the facade. The inspiration for this solution is a landscape of a sea ports with transport containers. Colorful mosaic makes kindergarten look more cheerful, even though it is made out of transport containers. The façade is finished with cladding fiber–cement panels in 6 selected colors.
The proposed structure is made of 67 containers in total, including:
30 containers of dimensions 4885 x 2435 x 2790 mm
15 containers of dimensions 6055 x 2435 x 2790 mm
22 containers of dimensions 7335 x 2435 x 2790 mm
Total floor area. 929.55 m2.
functional diagram: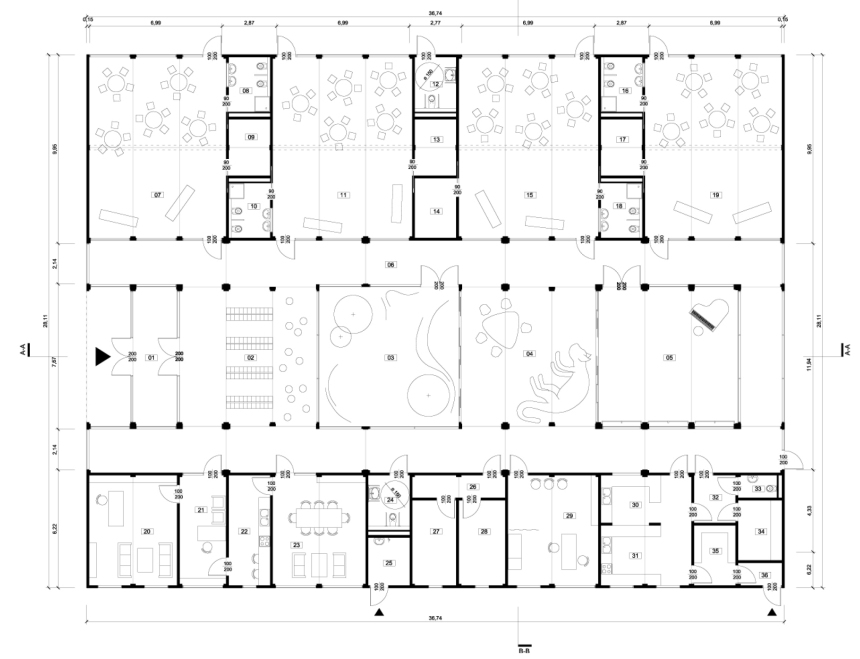 status: competition project
team: Anna Struska, Henryk Struski, Marek Struski
year: 2013